The NFL regular season begins on Thursday with the defending Super Bowl Champion Baltimore Ravens going on the road to face the Denver Broncos. I'm a diehard NFL fan (the Rams are my team) that is anticipating this season very much.
If you're wondering, I did calculate the number of wins for each team so that it totaled 256, which is the total amount of games played in an NFL regular season. I know some people that do predictions without counting the number of wins and it doesn't turn out right.
To begin, I'll look at the American Football Conference first.
Note: * denotes playoff team.
AFC East
* New England 11-5
I know they lost some offensive firepower, but I believe in Brady & Belichick. I also think Stevan Ridley will elevate his game to the level of a top five RB this season. A big key will be if Rob Gronkowski can play about 12 games. If he does they are scary like usual. It helps to be a part of a division without another great team in it.
Miami 8-8
Mike Wallace will help the pass game. You can throw it to him deep, but do they have enough on offense to score enough points? I'm not sure. Defensively they seem pretty average to me. I don't think they have enough to get in the playoffs.
Buffalo 6-10
I feel bad for their fans since they haven't made the playoffs since 1999 (the longest drought in the NFL). I like rookie QB EJ Manuel, but I don't think they have enough to get in the playoffs.
NY Jets 3-13
I almost put a "1" there, but I'll give them three wins. Bad team with a terrible offense and they did a poor job in adding talent on the offensive side. Geno Smith may turn out to be a good QB in the NFL, but not with that WR group. Their embattled coach Rex Ryan will likely be fired by about week ten.
AFC North
* Cincinnati 11-5
They have one of the best defenses in all of football led by their powerful defensive line. I think they improved on offense with Giovanni Bernard at RB. They won 10 last year, so I think they'll get one more win to win the division.
* Pittsburgh 10-6
They are one of those teams that always seems to bounce back when you think they're down. Ben Roehtlisberger has a better OLine in front of him and if he has time in the pocket he'll have a big year. I also think rookie OLB Jarvis Jones will be a big factor right away.
* Baltimore 9-7
I'm not as high on them as some people are, but I still see them as a playoff team in part because the AFC isn't that deep. I worry about them because I think the Super Bowl hangover is legit. I think some of their losses, especially on defense, are going to weaken them.
Cleveland 6-10
They are getting better. Problem is, this is the best division in the AFC and it's going to take a couple more years for them to be a playoff team if they get the right players. Don't be surprised if RB Trent Richardson is top three in rushing in his second year.
AFC South
* Houston 13-3
The Texans have a lot of talent and balance all over the place. Last year they lost their best LB Brian Cushing early on, yet they still had a great defense. I think with Cushing back they'll be even better. Offensively, I like adding DeAndre Hopkins to the WR group as some help for Andre Johnson. Last year they tasted the playoffs. This year they have to have visions of winning it all.
Indianapolis 8-8
I'm not giving the Colts eight wins because I think they were a fluke. I just think they overachieved with 11 wins last year. They won't sneak up on people this year. I like QB Andrew Luck a lot and his group of WRs are solid. I don't know about that defense, though. It seems like that is always a problem for the Colts.
Tennessee 6-10
The big question for the Titans this year is whether or not Jake Locker is their QB of the future. Unfortunately for Locker, I don't think they have enough weapons in the passing game, nor is their defense good enough. On the plus side, they have a good offensive line and perhaps Chris Johnson could have a big year.
Jacksonville 3-13
Another bad year for them. At least it's an improvement over the two wins from last year. If Maurice Jones-Drew is healthy all year and he's motivated then I can see him carrying them to five or six wins. I just don't think they have enough to really make a leap up the standings.
AFC West
* Denver 13-3
This seems like an obvious prediction. Their offense will likely be the best in the AFC. I think the defense will miss Elvis Dumervill (signed with the Ravens) and the suspended Von Miller because their pass rush will suffer. I see them winning a lot of 37-24 type of games all year long. Peyton Manning will be better this year than last year because the offense is improved with the additions of Wes Welker at WR and Montee Ball at RB among others.
Kansas City 9-7
They're a veteran team that was hurt by injuries last year along with poor QB play and horrendous coaching. Now that they have a new QB (Alex Smith) and veteran head coach (Andy Reid) they are in for a bounce back year. Don't be surprised if they fight for a playoff spot. I have them tying the Ravens, but I give it to Baltimore on the tiebreak.
San Diego 5-11
I'm not sure what to think about them. Five wins might be generous on my part because I think they have the worst group of WRs in the league, so it's going to be tough to score a lot of points.
Oakland 2-14
Worst team in the league. First pick in the NFL Draft next season. It will be painful to watch this team play. They have a long way to go to get back to respectability.
----
AFC Playoff Predictions
Byes: (1) Denver, (2) Houston
Wildcard Round
(3) New England over (6) Baltimore - Rematch of the last two AFC Title games. I'll take Brady at home.
(4) Cincinnati over (5) Pittsburgh - Bengals prove they are the new powers of the AFC North with their defense dominating en route to victory.
Conference Semifinals
(1) Denver over (4) Cincinnati - Tough road game for the young Bengals. I think the experienced Broncos find a way to win, but the Bengals will prove how close they are to getting to that next level.
(2) Houston over (3) New England - The biggest game in Houston Texans history. I think their defense will find a way to get the job done.
AFC Championship
(1) Denver over Houston - This one was really hard. The Texans are clearly the better defensive team in my eyes, but I don't know if I trust Matt Schaub enough. Of course last year I picked against the Ravens in their last three games and Joe Flacco proved he could win a ring. Maybe Schaub could too. I have my doubts, though.
I'm going Denver because I truly believe that Peyton Manning has one more run in that golden right arm of his. Ultimately, this is a QB driven league with rules that benefit that position. Plus, I really think the Broncos will be very difficult to defend with Thomas, Decker & Welker catching balls while rookie Montee Ball solidifies the run game. Their offense is going to be tough for anybody to deal with.
AFC Champions: Denver Broncos
I think it's pretty clear that the AFC is the weaker of the two conferences, so as far as my predictions go I don't think I took too many risks. In the NFC that's a much different story because it's more wide open.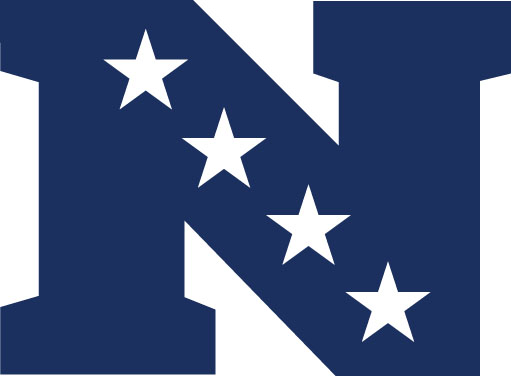 It's time to move over to the better of the two conferences, the National Football Conference (NFC). As you will see, I wrote a lot more about NFC teams.
Note: * denotes playoff team.
NFC East
* NY Giants 11-5
It's time for a bounce back year from the Giants, who failed to make the playoffs last year after winning the Super Bowl the year before. What's interesting is they went 9-7 in both years. That shows how hard it is to predict the NFL these days. My reason for optimism? I think David Wilson will be an upgrade at RB that can break big plays at any time. I also think they have a veteran team on both sides of the ball that is pissed off that they missed out on the playoffs last year. Tom Coughlin will get his team back on track. He's convinced me that he's a great coach and great coaches find ways to improve their team.
Washington 9-7
Like most teams in the NFC East, it's tough to get a read on them. Will they be more like the team that started out last season at 3-6 or the one that ended last year by winning seven games to win the NFC East? I'm not sure. I love QB Robert Griffin III, but that knee injury is a concern and if he does run less is he still as effective? I'm not writing them off by any means. I think they're solid in all areas. I just have them missing the playoffs this year in a loaded NFC.
Philadelphia 7-9
They will be better. They're a team that went 4-12 last year despite starting the year at 3-1 (that means they went 1-11 the rest of the way if you can't do the match yourself). When I say they will be better I mean on offense where new coach Chip Kelly will pick up the pace. I think teams figured out how to defend them last year since Andy Reid had been running the same system for over a decade. Kelly's an unknown in the NFL. The problem is their defense is really bad, so that's going to keep them out of the playoffs most likely.
Dallas 6-10
Maybe the hardest team in the entire NFL to predict. At 6-10 I'm guessing my prediction for them is lower than most, but it's simply because of all the question marks. Will their defense that gave up 25 PPG last year improve? Is DeMarco Murray capable of playing a full season at RB at a high level? They were 2nd last in rushing yards last year. Will the offense drop off since head coach Jason Garrett has handed over playcalling duties to Bill Callahan? Can Tony Romo realize that he has to be safer with the ball after a league-high 19 interceptions? He's 33 years old. He should know better by now.
NFC North
* Green Bay 11-5
I have them winning the division with the same record as they did last year, but I like them more this year because they addressed their need at running back. I think Eddie Lacy will be a good fit for them. Obviously the offense revolves around Aaron Rodgers (best QB in the league) and that awesome passing game, but having a better run game will definitely help. I'm still not sold on the defense. They're not in the bottom half of the league if you look at their yards given up, but they lack impact players other than LB Clay Matthews. Others have to step up. They are definitely Super Bowl contenders with or without a top defense just because Rodgers makes everybody around him better.
Minnesota 8-8
Adrian Peterson is right up there with Barry Sanders as far as my favorite player to watch that never played for my team (the Rams). I absolutely love watching him. He's a violent runner with a great mix of speed and power that could end up breaking the single season rushing record some season as well as the all-time rushing record. He's that good. What I worry about with them is teams may really stack the box a lot and I don't know if QB Christian Ponder is good enough to make teams pay. I do like that they boosted the WR group by adding Greg Jennings and drafting Cordarrelle Patterson, but they still need a QB to get them the ball. If Ponder shows significant improvement they can win 10 or 11 games. I have my doubts, though. If you're wondering, I project Peterson at about 1,600 rushing yards and 12 TDs. I think it's too hard to get to 2,000 yards two years in a row although I think he might get there in another season.
Detroit 7-9
The Lions should be improved after a disappointing 4-12 season, which followed a playoff berth in 2011. A lot of things went wrong last year. We all know about superstar WR Calvin Johnson breaking records while Matthew Stafford has been able to stay healthy the last couple of years. A big problem for them has been the defense. If you look at the DLine, it's stacked with high picks in Ndamukong Suh, Nick Fairly and now Ezekiel Ansah, who was drafted 5th overall this year. If they can stop the run game and terrorize QBs then they could be a playoff team again. I just don't think they'll be consistent enough on defense to be able to do that.
Chicago 6-10
I'm sure some Bears fans will be angry reading that projected record. I'm sorry! I think the Bears overachieved last year in going 10-6. That's why I think there will be a drop off this year. You can't tell that the defense is going to be as good when they lose a great defensive head coach in Lovie Smith in order to hire an offensive coach like Marc Trestman. I'm also not convinced that Jay Cutler is a consistently good QB or that the offensive line is really improved. I could be way wrong on them, but they're not a team that impresses me that much this year. Like a lot of teams in the NFC, they could surprise me.
NFC South
* Atlanta 12-4
I am 100% completely in on the Falcons. The 12-4 record doesn't mean I think they will be significantly worse than when they were 13-3 last year. I just think the schedule is really hard, so winning 13 games will prove difficult. They convinced me during their playoff run last year when they nearly beat the 49ers in the NFC Title game to make the Super Bowl. With Hall of Fame TE Tony Gonzalez coming back for one more year and the addition former Rams RB Steven Jackson, the offense could be even better. Jackson's a veteran back who still has something left and will be a huge addition to the offense in 3rd/4th and short situations. He's a hard guy to slow down. There are defensive questions because I wonder if they can pressure QBs enough, but they proved to me in the Seattle/San Francisco playoffs games that they can get the job done. The problem in the SF title game was the offense let up in the second half and they blew a 17 point lead to lose the game. Now they have to prove they learned their lesson by never taking their foot off the pedal.
* New Orleans 10-6
They are one of my two wildcard teams in the NFC. Some may think I'm reaching because they have a defense that gave up 28 PPG last year, which was the second most in the NFL last year (Tennessee was the worst). I get that. I don't think they can get much worse, though. A big reason I believe in them is because Sean Payton is back from his year-long suspension and I get the sense that he's going to be very aggressive in his playcalling all year long. They already have a great offense. I think it will be even better this year. If they put up more points and tighten up on defense they can win three more games than last year to get into the playoffs. I believe in Drew Brees. He hasn't won the regular season MVP award yet. This could be his year.
Carolina 6-10
The Panthers are rare in today's NFL because they are run first, pass later type of team. I think that's a problem because it makes them easier to defend. Granted, Cam Newton is a dynamic young QB who can take over a game if he needs to. However, they lack weapons on offense to really scare defenses. I look at their roster and see that they haven't really addressed the need for a big play WR. Steve Smith's still their #1 guy, which is fine except that after him there's a big drop off. Realistically, Smith should be the second best WR on the team at this point in his career (age 34), but there's nobody there that is ready to supplant him. It makes them easier to defend because teams know they don't have enough threats to stretch the field. When you're too one dimensional you can be stopped.
Tampa Bay 5-11
It's another NFC team that is tough to get a read on. The Bucs started last year at 6-4, looked like one of the best young teams in the NFL poised for a playoff run and then they lost five straight before winning the last game to end up at 7-9. As I've said throughout this preview, what are they really like? They made some smart free agent moves in the offseason to help the defense in acquiring CB Darrell Revis and I like S Dashon Goldson from San Fran too. My concern is the offense. I don't think Josh Freeman is consistent enough. He makes some bad plays in crucial situations. I think teams figured him out in the second half of the year when they lost those five games in a row. If he can be a more consistent player they can be a playoff team, but if he continues to regress the whole team will come crumbling down too.
NFC West
* Seattle 11-5
From top to bottom they might be the most talented team in the NFL. If they were in the AFC I'd likely put them at 14 wins, but as I've said all along the NFC is just too deep. Their defense is scary. They might have the best DLine in football and their secondary is definitely the best in my opinions. The LBs? They're fine too. When you can stop teams you can win those close games that go down to the wire because the defense will always show up. I like the offense with Russell Wilson emerging as a star at QB, Marshawn Lynch running the ball hard (backup Christine Michael will be a factor too) and a decent WR group that will be hurt by the absence of the injured Percy Harvin. Is there a tougher place to play than in Seattle? They have the best home field advantage in the league (8-0 at home last year). Their loss to Atlanta was a heartbreaker, but I think what they can take away from it is how they fought back from a lead to nearly come back on the road. If they can secure home field advantage it will be a big deal for them and make the road to the Super Bowl difficult for everybody else. I have them as the two seed.
* San Francisco 11-5
I think they should have won the Super Bowl last year. I hated their playcalling at the end of the game with four downs to get the final score. Why not call one or two run plays? Get closer to the goal line. I'll never understand it. I know Jim Harbaugh is a good coach, but he messed up there. Here we are seven months later. Are they going to be pissed off about it and get better or will they let it linger? I'm betting on them being pissed off. I'm a huge fan of Colin Kaepernick at QB. I think he'll be a MVP candidate because he'll make an average group of WRs look better. They'll definitely miss Michael Crabtree, though. He emerged as a star late in the year and even if he comes back in December I don't know if he'll be effective. Defensively they are as good as anybody in the league. They didn't have to change defensively too much, so they should still be one of the best defenses. Nobody should want to play the Niners. They're tough, well coached and deep in a lot of areas. They are one of the three or four best teams in the NFL again.
St. Louis 8-8
I tried to look at my favorite team in an unbiased way. I hope they win two or three more games than I'm projecting, but I'd be fine with eight wins. The last time the Rams were above .500 was 2003 although the last time they got in the playoffs was 2004 when they were 8-8 (remember when the NFC West really sucked?). The defense recorded 52 sacks last year, which tied Denver for most in the NFL. That's impressive considering the longest tenured defender on the team in Chris Long, who is only in his 5th year. It's a young defense that will continue to grow and I think they will carry the team a lot of the way. My concern is running the ball on offense. I think they will miss Steven Jackson a lot. I'm not that convinced in the Richardson/Pead duo in the backfield. What I'm happy about is the offense got better by adding Jake Long at LT and the WR group should be improved with dynamic rookie WR Tavon Austin and free agent TE Jared Cook creating matchup problems all over the field. I hope Sam Bradford improves to the point that he can lead the team to the playoffs, but I'm apprehensive because the NFC is just so deep. In the AFC I think they're a playoff team. In the NFC? Not yet.
Arizona 5-11
They might be the best 5-11 team in the NFL. Does that make sense? It does to me. They're playing in the best division in football and they should be better on offense with a more competent QB in Carson Palmer throwing the ball a lot. However, the lack of a run game will hurt them. As I've mentioned before, a predictable offense is easy to defense and with Palmer known as a guy that will throw interceptions I think they will struggle at times. I think they could pass the Rams in the standings if everything went well, but they're not on the level of the Seahawks and Niners.
---
NFC Playoff Predictions
Byes: (1) Atlanta, (2) Seattle
Wildcard Round
(3) Green Bay over (6) New Orleans - High scoring game. Give me the home team.
(5) San Francisco over (4) NY Giants - Niners win on the road in a physical battle.
Conference Semifinals
(1) Atlanta over (5) San Francisco - Atlanta beats the team that took them out last year in the NFC Title game.
(2) Seattle over (3) Green Bay - Tough venue for the Packers. I like the Seahawks too much at home.
NFC Championship
(1) Atlanta over (2) Seattle - A rematch of their "game of the year" in the playoffs last season with the Falcons emerging victorious again. The difference will be that they have too many playmakers on offense with Jackson, Rodgers, Jones, White and Gonzalez presenting plenty of options for Matt Ryan to go to. I think what will hurt Seattle is the lack of big play options. Maybe they have Percy Harvin back by then, but how effective will he be? Give me the consistency of the Falcons for the win.
NFC Champions: Atlanta Falcons
That means my Super Bowl prediction is Denver vs. Atlanta. Who's the winner?
Denver Broncos 34 - Atlanta Falcons 27
Peyton Manning wins his second Super Bowl trophy and is named MVP.
----
NFL Awards
MVP - Aaron Rodgers. Others like P. Manning, Brees, Brady, Kaepernick are candidates too.
Defensively Player of the Year - JJ Watt. Repeat winner. He's too damn good.
Offensive Player of the Year - Aaron Rodgers.
Coach of the Year - Andy Reid. If the Chiefs go from two wins to nine like I predict then it should go to him even if they don't make the playoffs.
Offensive Rookie of the Year - Tavon Austin. That's not just a homer pick as a Rams fan. I really think he'll be a difference maker. Look out for Packers RB Eddie Lacy too.
Defensive Rookie of the Year - Jarvis Jones. The Steelers are the best team in terms of developing LBs. Look for double digits in sacks from the rookie.
I'm not picking Comeback Player of the Year. Does Robert Griffin III count if he missed no games? He came back from surgery, but no games missed. I'll just leave it blank.
See you later in the week for week 1 picks.
John Canton - mrjohncanton@gmail.com
Twitter @johnreport