New car, new rules, new controversy, same champion. #Sixpack
It was the year of new. It was the year of history. It was the year of injury. It was a year of change. It was the year of controversy. It was the year of an unprecedented reaction. It was the year of Six Pack.
New
The COT or Car of Tomorrow or as it's become known the Gen-5 car was a total and unmitigated disaster since its inception in 2007. Drives couldn't pass some could barely handle their cars, fans couldn't identify with it, and the manufactures were infuriated by it. The only good thing the car did was provide safety for the driver.
So in 2011 into 2012 a new car was designed. It would become known as the Gen-6. It would take the vast improvements in safety, but bring back some of the old school brand identification. Gone were simply stickers that separated Chevys from Toyota. Now each car had a revamped look, and their street versions, looking amazingly similar to their racing counter parts.
With this change came an old rule being new again. The testing band was finally relaxed. Teams could choose to go to any four NASCAR sanctioned tracks to test for the first time in years. It opened the doors to teams collecting all forms of data, and allowing themselves new access, some teams not having before.
History
A woman had never won the Daytona 500 pole before. A woman had also never led laps. That was until 2013 when Danica Patrick roared into her second Speed Weeks. Having shown restrictor plate prowess, Patrick was embarrassed by her 2012 performance at Daytona, wrecking in a Duals race and then wrecking on the first lap of the race.
Looking to rectify this in 2013, Patrick sat the fastest speed to qualify first. She would then lead green flag laps in the race. Along with those things, and racing in the top ten, Danica had the chance to go home happy. Her position of third with two laps to go would have her hungry for more as she saw Jimmie Johnson out front.
However, the pied piper of Daytona and Talladega along with one of his favorite drafting partners had other plans. Dale Earnhardt Jr and Mark Martin made a daring move around Danica and others to make a huge run on Jimmie Johnson. Thanks to shuffling in the lines, this sent Danica back. However, she'd cross the finish line in eighth making one last piece of history being highest finish woman ever.
Injury
Denny Hamlin had a back injury that was beginning to take its toll on his patience. However, like any race car driver, he battled through the pain for years to drive. Then at Auto Club Speedway in the fifth race of the season, his back had enough.
Denny and former teammate Joey Logano privately had issues before Logano left Joe Gibbs Racing. A racing accident at Bristol the race before lit a fire under Joey. No longer would he be Denny's punching bag. And coming out of turn 4 the pair came together as Joey and he raced far harder than required.
Both cars became mangled messes, Joey drove back to pit road to have a shoving match with Tony Stewart. Denny, barely pulled himself from his car only to fall to his knees beside it. He would suffer a L1 Compression fracture in and would be out until Talladega. He wouldn't race the same for the entire rest of the season.
Tony Stewart's passion and love for racing had him in some form of a car six days a week. That was why after racing to a ninth place finish at Pocono he was at a dirt track in Iowa. He'd be leading the even went a car spun in front of him. In an effort not to t-bone the driver, Tony destroyed his own car, probably saving the life of the other driver.
In the process, Tony broke the tibia and fibula bone. He'd require Austin Dillon and Mark Martin while he went through three different surgeries. A season lost due to his passion, Stewart has promised to scale back. He also is on course to return in time for the 2014 season.
Change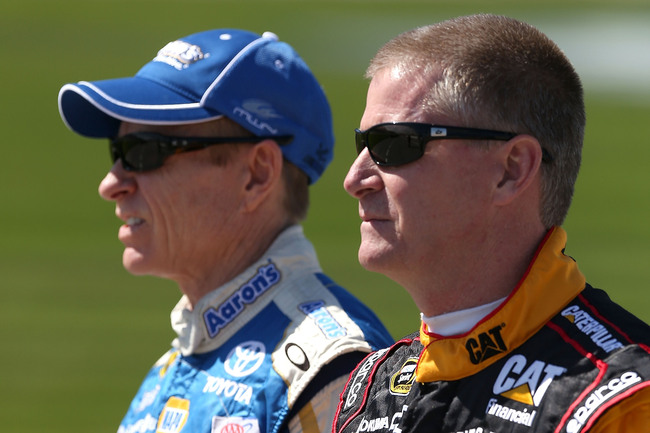 There was a time when Bobby Labonte, Mark Martin, and Jeff Burton were considered the young guns of NASCAR. These were the men who were going to push aside Bobby Allison and Richard Petty. They won titles, races, and broke constant records on their way to doing so.
Now times have begun to change, and they are the drivers leaving the sport as others are entering. At the end of this season Bobby Labonte had lost his ride at JTG Daugherty to AJ Allmendinger who was giving his second chance on his career.
Mark Martin saw his time officially coming to an end at Michael Waltrip Racing when Brian Vickers won in New Hampshire. Jeff Burton's lack of performance saw him being moved out to the youth movement of Richard Childress Racing.
It was the turning of the page. And when the day comes for the first race those three men are not involved, change will be more evident than ever.
Controversy
Every season there is some form of a cheating scandal. Last year it was the c-posts on the 48. This year it was the engine weight on the 20 car and rear end housing on both Penske cars. Those were going to be the major story, especially how NASCAR had large point levies over turned.
That was until Richmond where thirteen drivers were battling for twelve spots. With Ryan Newman in the lead, and Jeff Gordon in the transfer spot two events happened that would forever change the landscape of NASCAR. Clint Bowyer's car would spin and bring out the caution. Dale Earnhardt Jr., Jeff's teammate made it known over his radio.
"Something's funny about that deal. I aint saying nothin' about accusing anyone, but he was workin' that break going into the corner. Just sayin'."
While the caution was out, Brian Vickers was summoned down pit road by Ty Norris. On the restart Newman los the lead, Gordon lost positions and the common goal Vickers and Bowyer were working on was met to get teammate Martin Truex Jr. in the chase. Dale Jr. voiced his suspicions as radio commentary cycled out into the media.
This was NASCAR's worst and most controversial problem since the Chase inception. It would only get worse as radio communications would come out Wednesday of a possible deal between Front Row Motorsports and Penske Racing to give a spot up. It would require two separate reactions that would be unprecedented for NASCAR.
Unprecedented Reaction.
September 9th was the Monday after Richmond where all the controversy happened. An announcement went out that NASCAR would be holding a press conference addressing what happened. It would set a new standard and show Brian France and company had no fear with dropping the hammer down.
The announcement was that Martin Truex Jr was removed from the Chase. In his place Ryan Newman would receive the twelfth spot. The matter, hoped by NASCAR, was dead. Then FOX Sports 1 got their hands on the above mentioned audio between Front Row and Penske.
NASCAR would again react and add a onetime only thirteenth driver to the Chase. Jeff Gordon would be in the field. He would make the most of this and even being a possibly competitor going late into the season before falling. Ryan Newman totally squandered his chance.
The fallout left Martin Truex Jr. and his 56 team enraged and on the outside of the title hunt. Eventually Martin left MWR along with his entire Pit Crew going to Furniture Row Racing. Ironically enough it was to fill a seat being vacated by Kurt Bush. Kurt was moving to Stewart Haas-Racing in a fourth car with Kevin Harvick, Danica Patrick and Tony Stewart, and Stewart's new crew chief being Martin's now former after homestead, Chad Johnson.
Six Pack.
I don't wanna say I told you so. But I….told you so. I stole this line and changed it lightly from Ric Flair's 1992 WWE (F) title win at the Royal Rumble. Now some would say choosing Jimmie Johnson to win isn't going out on that big of a limb.
However, this article was written in July, well before the season would be over. However, let's start back at the beginning.
The year started and felt like a Jimmie Johnson year, and felt eerily similar to Johnson's 2006 title run. He won the Daytona 500, and then proceeded to go on a terror of consistency. He would have a bit of a pre-Chase fall off. Matt Kenseth would also have a career high year in his first year with Joe Gibbs Racing.
They would have a tight points battle going deep into the Chase until Phoenix. Johnson would use the race to put an insurmountable distance between him and Kenseth. He would roll into Homestead needing to only finish 23rd, and would finish 9th. Officially going from Five Time to Six Pack.
Final thoughts.
2013 saw its share of ups, downs, and what the hell moments for the Sprint Cup series. While yes, I'm a fan in some strange way I'm glad that Jimmie Johnson won the title. Now instead of this season being remembered for "Spin-Gate" it will have more a memory of Johnson winning his sixth title.
Should Johnson win a seventh then the memory of "Spin-Gate" will fade entirely. That or Dale Jr. winning the 2014 championship will all but vanquish the thought of it. As we look forward to 2014 I have a strong hope for the future. The Gen-6 is a vast improvement of the Gen-5, fans are happier, and 2014 will be the last we are force to deal with TNT and ESPN….I am not a fan if it's not obvious from earlier articles.
Random Sports/Non Sports Thought:
Thank god this is the last review…..
Have a question, suggestion or witty comment? Feel free to leave one below! Don't want to do that? Then the fastest, easiest, and quickest way to interact with me is on Twitter, @tpierc07. I also am on Facebook, but that one you have to work for. Don't do social media? Then feel free to e-mail me at tpierc07@yahoo.com!
I'll be back for one final article of the week tomorrow with all the latest news and notes from this week in racing.
Tyler Pierce