My rant on how Cup stars are ruining the number two series and how they aren't to blame.
I've gotten a rhythm to these reviews. I list of what I feel is keywords to the series and elaborate on them.
I could use legacy, talking about how the three has returned as pictured above through Austin Dillon.
I could include keywords like miracle. Like it how it had be some divine miracle that no one was injured by the crash at the start of the season in Daytona.
I could combine keywords such as low blow. Such as when Nelson Piquet Jr. kicked Brian Scott below the belt
I could include keywords like hysterical. Like when Max Papis was slapped by a girl then claimed to have a fractured jaw.
The problem is to me there is only one key word that describes the 2013 NASCAR Nationwide Series. The word is ruined.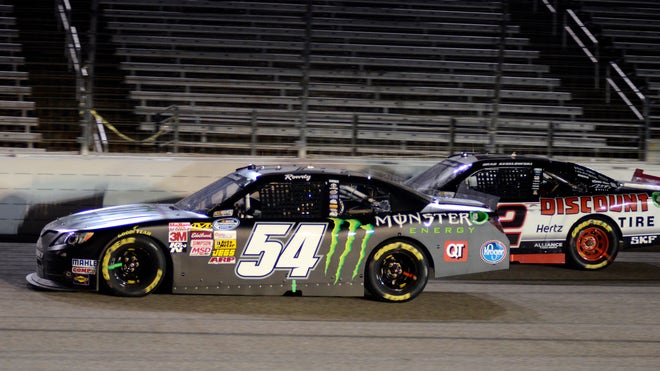 Of thirty-three races ran only four were won by a series regular. Think about that, think of how many drivers there are who only run for the Nationwide series, but only three of them won. Now I know you read that and said "Hey wait, you said four races were won!" Yes, four races with three drivers because Regan Smith was the only repeat winner between them, Trevor Bayne, and Sam Hornish Jr.
So we are down to twenty-nine races, but here is the thing. Of those twenty-nine, another three races were won by drivers who weren't full time Cup drivers. Ryan Blaney and AJ Allmendinger won twice. This means twenty-six races were won by a Cup Regular.
Let that sink in. Of a thirty-three race season, only four were won by Series regulars. Three by non-full time cup drivers. All the rest is Cup.
The title came down between Austin Dillon and Sam Hornish Jr. Sam had one win, and needed a bit of a Hail Mary to steal the title from Austin. When you look at his runner up finishes which was five, all five were to cup stars.
Austin had three runner up finishes, one to Trevor Bayne, another to Ryan Blaney, and one to Kyle Busch. Meaning he would have a win had Kyle not ran. Now I know the comment would be two if Blaney doesn't run. But I believe in lower series guys coming into higher series. It's a different argument when it's in reverse.
If those races are not run by cup cars then Sam would beat Austin Dillon by nine points. Instead we celebrated a winless 2013 Nationwide Champion.
Cup stars shouldn't have such a huge play in who wins a championship. So why are they?
Sponsors.
Sponsors are what are killing the sport. You can blame the economy; you can blame the lack of exposure. But sponsors dictate who runs in their cars. Monster Energy wants Kyle Busch in their car. Discount Tire wants Joey Logano or Brad Keselowski in their car.
NASCAR could put mandates on how many races a Sprint Cup driver races in. Sponsors would simply pull back and sponsor just those races. However, the reason sponsors tolerate other drivers when the Cup stars aren't in them is because they know next week they will be driving the car again.
Monster Energy saw Kyle Busch win twelve races. That is twelve victory lane appearances for one sponsor. Being honest, I'd want Kyle in my car to if I sponsored it. How could you not at a thirty-six percent winning average.
Adding to that is the owner's championship has become a major form of bragging rights in the series. The 22 of Penske Racing who Keselowski and Logano drive for barely won over the 54 of Joe Gibbs Racing run by Kyle Busch predominately.
The question is then if we know what the problem is what do we do about it?
As of right now, I don't know. I don't know if there is anything that can be done. Part of the appeal of sponsoring in what was the triple A version of the sport was a sponsor finding someone to grow with. In today's economy companies are demanding instant results.
There is no more time, there is no more patience. That's sad really because what happens is drivers get brought up to soon for a sponsor and they fail. Joey Logano is a prime case of not being given time to develop due to a sponsor and in that case a team need. Joey had a horrible three year run before moving to Penske. Since the move he has had success, but how good could he have been if he ran in the Nationwide series for another two years.
That could be the question we are asking about Kyle Larson. The problem is and will always be what keeps sponsors happy? And until there is a sponsor willing to put in the money, time, and effort in bringing up a star, we'll be forced to live with Cup stars ruining the Nationwide series.
Random Sports/Non Sports Thought:
Kids, don't fight on the internet. There is no point in it. I won't say what brought on this comment, but I will say just pretend opinions you don't like are like static. Let it be meaningless and go in one ear and out the other…..Also "You're a towel!" is still my top 5 insults of all time.
Have a question, suggestion or witty comment? Feel free to leave one below! Don't want to do that? Then the fastest, easiest, and quickest way to interact with me is on Twitter, @tpierc07. I also am on Facebook, but that one you have to work for. Don't do social media? Then feel free to e-mail me at tpierc07@yahoo.com!
I will be back tomorrow for my final review of the NASCAR Sprint Cup Series. Here's a hint of what I'll talk about: I don't like to say I told ya so. But I….told ya so!
Tyler Pierce