Kenseth and Busch finish 1-2 for second straight week.
500th start gives Kenseth 31st win of career and 7th of season.
"The Rocket Man" Ryan Newman won another career pole to start the Sylvania 300 from New Hampshire. The first starting spot wouldn't translate to the finish as Ryan only led 2 laps and would finish 16th. The first caution came out when the 35 and 51 brought out the yellow from an incident in turn 4 on lap 31.
The story of the race was the Toyota dominance that accounted for 209 laps led for the 300 lap event. Clint Bowyer led for 5 laps, while his Michael Waltrip Racing teammate Martin Truex Jr. had a strong showing by leading 98 laps.
Matt Kenseth would come through the field from 9th to led 106 laps of the event and lead the most important lap, the final. In his 500th start, Matt earned his 31st win of his career. Matt also won his 7th victory of the season to this point. JGR's pairing of Jason Ratcliff and Matt Kenseth has been an amazing success for the first year together with the team. The question will be can they repeat the magic next season?
The Top 5 were 1st Matt Kenseth, 2nd Kyle Busch, 3rd Greg Biffle, 4th Jimmie Johnson, and 5th Jamie McMurray.
Chase for the Sprint Cup Points
1st Matt Kenseth leads by 2111
2nd Kyle Busch (-14)
3rd Jimmie Johnson (-18)
4th Carl Edwards (-36)
5th Greg Biffle (-38)
6th Kevin Harvick (-39)
7th Kurt Busch (-40)
8th Jeff Gordon (-42)
9th Ryan Newman (-47)
10th Clint Bowyer (-48)
11th Dale Earnhardt Jr. (-62)
12th Joey Logano (-69)
13th Kasey Kahne (-71)
Chase Race 3 will come to us from Dover International Speedway with AAA 400. It will air Sunday September 29th at 2:00 PM on ESPN. The defending race winner is Brad Keselowski.
The Youth Movement continues!
Penske Racing won the pole for the Kentucky 300 event and led a combined 161 laps between Pole winner Sam Hornish Jr. and Ryan Blaney. The first caution was for a competition caution at lap 27.
The biggest story here to me is the coming out party for Ryan Blaney. There is a youth movement coming through NASCAR's lower ranks and it's led by drivers like Austin Dillon who led 36 laps and drivers like Blaney who is Brad Keselowski's driver in the Camping World Truck series. The 2012 Champion expressed he had nerves watching his driver win in a car he'd won multiple teams thus far in the season.
The Top 5 were 1st Ryan Blaney, 2nd Austin Dillon, 3rd Matt Crafton, 4th Sam Hornish Jr., and 5th Alex Bowman. Sam Hornish Jr maintains a lead over Austin Dillon as the points stand currently it is 15 point lead for Hornish.
The Nationwide series also heads into Dover International Speedway coming to us at 3:30 PM on ESPN 2 on Saturday September 28th. The previous race winner is Joey Logano.
The Camping World Truck series had the weekend off. They return on Saturday September 28th at 8:30 PM from Las Vegas Motor Speedway on Fox Sports 1 for the Smith's 350. The defending race winner is Nelson Piquet Jr.
IZOD-IndyCar will finally return on October 5th.
Vettel won, but you already knew that when you realized F-1 was coming up…
The Singtel Singapore on the Marina Bay Street Circuit from Marina Bay, Singapore was led from lap 1 to lap 61 by Sebastian Vettel. There was a crash on lap 24 with Daniel Ricciardo. Otherwise it's another not much to report story from F-1.

The top 5 were 1st Sebastian Vettel, 2nd Fernando Alonso, 3rd Kimi Räikkönen, 4th Nico Rosberg, and 5th Lewis Hamilton. Vettel's points lead is up to 60 over Alonso.

Formula One has next weekend off.
Points are shaken coming out of Texas.
The AAA Texas NHRA Fall Nationals saw a major shakeup in the points in some of the divisions of Mellow Yellow Drag Racing Series. First place qualifiers were as follows for each division: Top Fuel Shawn Langdon, Funny Car Robert Hight, Pro Stock Erica Enders-Stevens, and Pro Stock Motorcycle Hector Arana.
Shawn Langdon and Doug Kalitta won the first and second qualifiers for Top Fuel, and both made the most of it. Meeting in the final round the 1 and 2 saw the victory go to Kalitta as he got his first win since Denver in 2010.
Funny Car's Robert Hight would parley momentum into a first qualifier effort and make it to the third round of the event. He however would fall to boss John Force after losing traction, which allowed Force to pounce. Force would fall to Cruz Pedregon in the final round and would lead until hazing the tires around 400 feet. Pedregon would make the best of the error by getting to the line first.
In Pro Stock Erica Enders-Stevens would go into the second round to fall to V. Gaines. Gaines would fall the next round to Jason Line. Line would come from a 5th starting position to win over Shane Grey.
Pro Stock Motorcycle's Hector Arana would make it to the third round before falling to Eddie Krawiec. Eddie would use this to beat Matt Smith in the final round to win the event.
The points saw some interesting shakeups as now Shawn Langdon retook the lead but is tied with Doug Kalitta for first in Top Fuel. Matt Hagan's lead shrunk to 51 points over new second place driver Cruz Pedregon. Pro Stock saw Jason Line take the lead and send Mike Edwards to third and Jeg Coughlin Jr. maintained second. Hector Arana Jr. leads Matt Smith still, but his points lead also shrank as it's now down to 11.

The NHRA Mellow Yellow Drag Racing series rolls into Gateway Motorsports Park for the AAA Insurance NHRA Midwest Nationals. The races will air at 8:30 on ESPN2 on Sunday September 29th. This is the first time the series has come to Gateway so the winners will be the inaugural winners.
In random news:
Mark Webber wasn't able to make it to the pits when his engine expired on the last lap. He however, got a lift back to the pits from Fernando Alonso. Formula One was a little miffed at this but I can't help but remember this.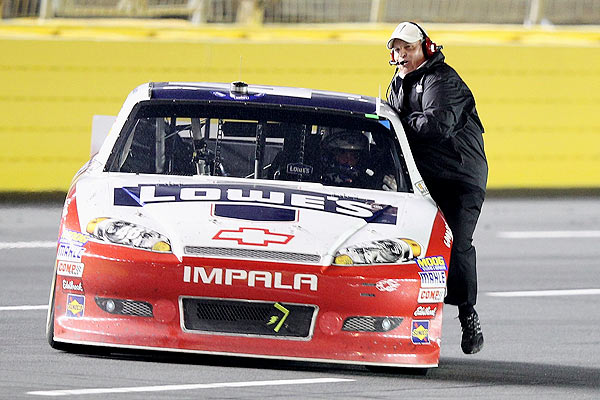 And this.
No one in NASCAR got pissy about it. So chillax F-1.
5 Hour Energy is not confirming they will follow NAPA out of Michael Waltrip. As of right now the company is said to be going to consider everything at the end of the year. The president of 5 Hour Energy, Scott Henderson, also used the time he talked about MWR to take a shot at NASCAR CEO Brian France on his integrity.
Martin Truex Jr is being rumored for a couple of different rides. One that is pretty thin is a fourth car started by Joe Gibbs Racing; the other is into the vacant Furniture Row Racing ride. NAPA's unknown whether they will stay with Martin if he leaves MWR, go to another team, or even leave the sport all together.
Speaking of Furniture Row they've been rumored that if they can't get Truex, they will go after a young driver. May I suggest Cole Witt?
Bobby Labonte would like to race next season, but is unsure where, if any ride will be available.
Drivers seem happy with the new restart rules laid out last weekend. Give it a month, that'll change.
Roger Penske is standing y his team in saying they had no errors on their part in anything at Richmond. Someone please tell Roger to just let it go so we can move on.
Speaking of Penske Hornish Jr. could win the Nationwide title and not have a ride next season. Sponsors again strike as to why it appears.
Random Sports/Non Sports Thought:
Some people are already crowning Matt Kenseth has the 2013 Sprint Cup Champion, but until Toyota proves Chase consistence, I'm sticking with JJ.
Have a question, suggestion or witty comment? Feel free to leave one below! Don't want to do that? Then the fastest, easiest, and quickest way to interact with me is on Twitter, @tpierc07. I also am on Facebook, but that one you have to work for. Don't do social media? Then feel free to e-mail me at tpierc07@yahoo.com!
Make sure to come back on Wednesday for my unsolicited opinion on NASCAR's youth movement!
Tyler Pierce