Sorting out the mayhem from Saturday's Canucks-Flames fight and weekly video.
At the beginning of Saturday's Calgary Flames and Vancouver Canucks game, there was an incident that managed to squeeze into the talk about Peyton Manning, Tom Brady and both NFL conference championships games.
Two seconds into the first period, the Flames and Canucks didn't waste any time as they got into a line brawl where everyone, but goalies Roberto Luongo and Karri Ramo got involved. The melee started a penalty-filled affair that the Canucks won 3-2 in a shootout. There were a total of eight ejections (all coming from the opening donnybrook) and over 200 penalty minutes (142 stemming from the first two seconds).
Check out the summary of the penalty minutes.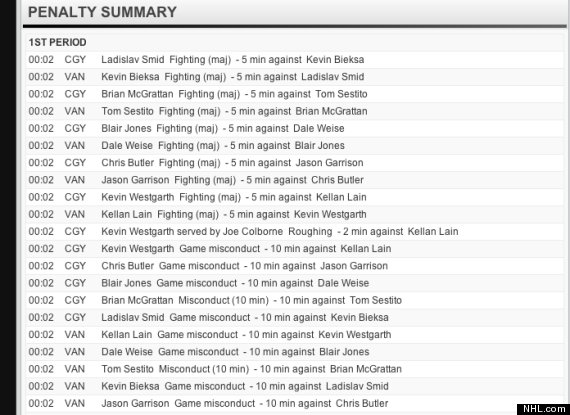 Here is the footage of the brawl.
The fun didn't end there as Vancouver bench boss and always feisty John Tortorella tried to get into the Calgary locker room to confront their coach Bob Hartley. Here's the video of Tortorella trying to do that.
(Credit to Some Hockey Video YouTube channel for both videos.)
It looks like he gets stopped Flames forward Brian McGrattan and goaltending coach Clint Malarchuk (who ended up get a facewash from Canucks forward Alex Burrows) from making the incident worse than it was. Torts was still livid after the game and his outburst has gotten him an in-person hearing in New York with the NHL disciplinary committee.
The fight all stemmed from when the lineups were submitted before the game. As per NHL rules, the visiting team (Calgary submitted) a lineup that is was filled with their enforcers. John Tortorella then responded by putting in a lineup with his fourth line. (Hartley was probably hoping that Tortorella would put out the line with the Sedin twins and Ryan Kessler in hopes of them fighting and getting them ejected.)
Kevin Westgarth (a winger) slid in to take the faceoff and try to go after rookie Kellan Lain (who set a record for quickest fight in an NHL career). Defenseman Kevin Bieksa then stepped up and took on Westgarth during the ensuing line brawl.
During the confrontation, Tortorella screamed at Hartley to "Get his team under (bleeping) control." Tortorella was also pointing and gesturing and looked like he wanted to go after the Flames bench boss. Torts has since apologized for his behavior about the whole thing about trying to confront the Flames coaching staff.
The scrum has once again fired up the debate about the merits of fighting as longtime MLB analyst Peter Gammons called the NHL a "minor sport" after seeing the line brawl. (The tweet has drawn plenty of vitriol from hockey fans.) There were plenty of GIFs, Facebook and Twitter posts calling the line brawl "Old Time Hockey." Critics of the game derided the incident as just another reason why the NHL is no better than the UFC and boxing.
My take is that Tortorella deserves to be suspended for trying to go into the Calgary locker room. He was completely out of line for doing that. He can chirp at Hartley on the bench and through the media. However, Hartley deserves supplemental discipline for what he did. Hartley was the one submitted the lineup with his goons on the ice. Tortorella was damned if he didn't put his goons out and damned if did put them out there. He was going to get criticized for it.
We know that the two teams don't like each other. The rivalry between these two Western Canadian teams has been around for a long time and it looks like it is going to be fired up in earnest from this point forward.
What are your thoughts on this incident? Who do you think was in the wrong? Was it Hartley or Tortorella? Do you think one or both coaches should be suspended? You can leave comments below or tweet me @DanMountSports.
Here are a few games to watch during the week.
Tuesday
Islanders at Rangers, 7 p.m. ET (MSG, MSG+2): One of the best rivalries in the game. The Blueshirts have been getting hot as of late.
Wednesday
Montreal at Pittsburgh, 7 p.m. ET (TSN, RDS, Root Pittsburgh): The Habs are trying to keep pace with the Bruins and Lightning. Pittsburgh has a nice lead in the Metropolitan Division.
Chicago at Detroit, 8 p.m. ET (NBCSN, TSN2): It's a shame these two teams only play each other twice a year. No thanks, realignment.
Thursday
Los Angeles at Anaheim, 10 p.m. ET (Fox Sports West, Fox Sports Prime Ticket): A preview of their Stadium Series encounter
It's now time for the cool, cruel and crazy videos of the week with our First star, Worst star and Who blew up the Death Star?
First star
The ageless Martin St. Louis goes behind the back to beat Antii Niemi.

Worst star
Phoenix's Martin Hanzal gets a fine for high-sticking David Booth. (Part of a rampage against three Canucks.)
Who blew up the Death Star?
The Red Wings tie the game and eventually beat Los Angeles with a goal off the netting. (This led to USA goalies Jimmy Howard and Jonathan Quick getting into it.)
That's it for this week. See you guys later in the week with more Olympic rosters.
Dan Mount is an NHL writer for TJRSports.com. He is based out of Watertown, NY.