Kes and Wolfe out strategize the field.
Sometimes they would stay out. Sometimes they'd take two tires when everyone took four. Sometimes they'd take four tires when everyone took two. Most of the time, I didn't know what the hell Brad Keselowski and Paul Wolfe were doing! That didn't matter because they did and it worked masterfully with them leading a race high 53 laps. They almost had a hiccup due to another strategy, however. We'll get to that in a second.
For the second straight week, Team Penske swept the front row. Joey Logano took the pole with Brad starting second. Joey would lead 44 laps before his car begin to fade, causing the 22 crew to rethink their plan. Joey and the Double Deuce (YES! I DID IT! I FINALLY DID IT! I FINALLY WORKED IN A ROAD HOUSE REFERENCE!) crew would rebound to finish fourth. Kyle Busch would also have a note worthy race and lead 52 laps before his car faded. They didn't rebound like the Double Deuce.
The other strategy that would try to impede on the 2 Crew was by the Daytona 500 winning 88 team of Hendrick Motorsports. Dale Earnhardt Jr. and Steve Letarte have been gambling with house money since and using different strategies. It's working well for them as Dale Jr. would lead for 51 laps at Vegas.
Stevie would come on the 88 radio and tell his driver with twenty to go they were ¾ to half a lap short on fuel. Brad wouldn't let the pressure up on Dale Jr. and Stevie's math would prove to be correct. Half way down the back stretch, Dale Jr.'s car pulled to the side and he began shaking it as the car was officially out. Brad raced by to take the checkered and Dale Jr. would get his third straight top 2 finish to start the season as he coasted to the line.
The Top 5 were: 1st Brad Keselowski, 2nd Dale Earnhardt Jr., 3rd Paul Menard, 4th Joey Logano, and 5th Carl Edwards.
The next race is the Food City 500 from Bristol Motor Speedway! The race coverage will begin at 12:30 PM EST on Sunday, March 16 with the race airing on FOX. The defending race winner is Kasey Kahne.
I've not worked out how I'll keep track of points for Sprint Cup since winning is more important than actual points. So for now I'm going to keep track of the winners due to them almost being sure locks for the Chase.
Race Winners of 2014: Dale Earnhardt Jr., Kevin Harvick, and Brad Keselowski.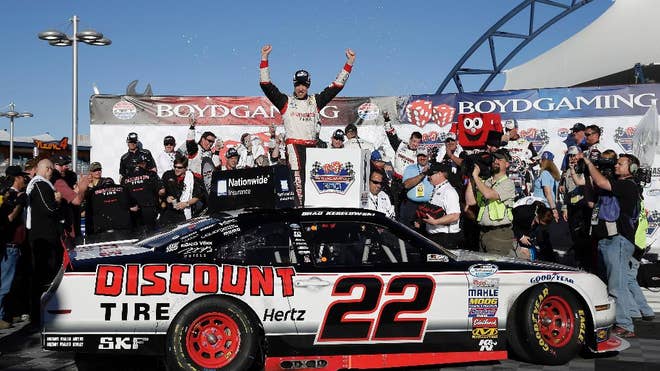 Keselwoski finally cashes in Vegas chips
Remember back during Watkins Glen race weekend I said the track owed Kyle Busch a win and that he collected? Well, Vegas in the Nationwide series owes Brad Keselowski and Kyle Busch. Brad finally got his win this weekend.
Brad and Kyle both had been wrecked or lost tires or other mechanical issues on the final lap of this race time and time again. Brad's efforts for the weekend would prove to be a good start as he'd start second to pole sitter Ty Dillon. Ty would finish 11th.
Kyle would blow a tire in practice and have to go to a back up. He could have started where he qualified in 7th but had to go to the back when his team fixed an alternator belt after qualifying. In typical Kyle fashion, he wasted no time getting to the front and was 12th after 10 laps and led 33 laps to finish second.
However, as impressive as Kyle's run through the field was as I said it'd be Brad's day as he led a total of 144 laps of a 200 lap event. We all wondered what if anything would happen on the last lap. I was pleasantly surprised the race ended without a hitch for Brad and the Double Deuce Nationwide team.
The Top 5 were: 1st Brad Keselowski, 2nd Kyle Busch, 3rd Kyle Larson, 4th Dale Earnhardt Jr., and 5th Chase Elliot.
Regan Smith leads the driver's standings by 3 points over Trevor Bayne.
The next race is the Drive to stop Diabetes 300 presented by Lilly Diabetes from Bristol Motor Speedway. The race will air at 1:00 PM EST on Saturday, March 15th on ESPN2. The defending race winner is Kyle Busch.
The Camping World Truck Series is still off and IndyCar is still not back to running yet.
In Random News:
Penske hits hole in one
So Roger Penske had a really good weekend. Swept the weekend and hit a hole in one at Augusta. I don't watch much golf but I do watch The Masters from Augusta National Golf Club. So that's pretty cool. He hit it on Hole 4.
9 fails post race inspect and 22 has shock taking in Nationwide
Chase Elliot's number 9 failed post race inspection for having the right front to low. Not the worst penalty in the world, but expect a fine and possible probation. The 22 also had the shock taken back to NASCAR R&D. Don't make too much of that as it's normal for NASCAR to take a part like that. Fines will be announced later this week.
Pemberton still not willing to make changes
For the first time, teams used Knock Out Qualifying on a 1.5 track and guess what? Drivers are still extremely concerned about the cool down process. Multiple drivers were seen or commented they nearly hit another car who was running it's cool down lap while others ran their qualifying lap. Bristol is going to be ugly. Someone is going to get their clock cleaned. NASCAR needs to get off their butts and make some changes to this.
Menard had replacement ready
Paul Menard had driver Matt Crafton on standby for the Las Vegas race. His wife, Jennifer is expected to go into labor tomorrow, but just in case something happened, RCR was ready.
Memorial for Dick Trickle in home town
Friends and family of Dick Trickle are working on building a memorial to the driver in his home town in Rudolph, Wisconsin. Right now the project is in its planning stages but it's looking good.
Ganassi signs Jamie Mac's replacement
Dylan Kwasniewski has signed a development deal with Chip Ganassi Racing. I'm telling you right now; by the middle of next season Dylan will be announced to replace Jamie McMurray. You heard it here first.
Three David's walk into a Thunder Valley
David Reutimann will drive the 35 for Front Row Motorsports and be teammate to David Regan and David Gilland at Bristol. The team is saying they now have "Three Davids to face Goliath." Good grief…
Kyle also wants to do the double
Kyle Busch expressed interest in doing the double of Indy 500 and Coke 600 someday. He's waiting until he wins a Sprint Cup Trophy and feels more ready to do it.
Indy 500 changes qualifying
Qualifying will begin for the Indy 500 on May 17th. The fastest 33 cars will be locked into the field and the fastest 9 drivers will move into a shootout to follow. Then on Sunday 10 through 33 will qualifying to determine their exact spots in the field. This is being done because the field isn't being filled up like it use to be. Gives more drama to qualifying and you know what? I kind of like it.
Random Sports/Non Sports thought:
It was 50 degrees here today and I LOVVVVVVVVVVVVVVVVVVED IT!
Have a question, suggestion or witty comment? Feel free to leave one below! Don't want to do that? Then the fastest, easiest, and quickest way to interact with me is on Twitter, @tpierc07. I also am on Facebook, but that one you have to work for. Don't do social media? Then feel free to e-mail me at tpierc07@yahoo.com!
I will see you all here on Thursday for a update on any news and notes and get you ready for the racing weekend!
Tyler Pierce