Alright, I'll ask the question. Who honestly had Jamie McMurray?! I'm sorry; we'll get to that in a second. Let's start at the beginning on Friday Night.
Bowyer takes Sprint Showdown with The Dinger
The Sprint Showdown is usually one of the more fun events of the year. Drivers race pretty hard to make the event in an effort to win $1,000,000. This year was no different as this 23 car field raced on Friday Night for the first time. This format was so much better in my opinion and gave the fans more bang for their buck while making the actual All Star Race feel special.
Austin Dillon's number 3 would claim the pole for the event setting up something that had a special feel to it. Then the event started and he sunk like a rock after leading 3 laps. The event's two dominate cars would be Clint Bowyer and AJ Allmendinger with Clint leading a race high 19 laps.
With two spots settled all that was left was the fan vote. That's when all hell broke loose on Twitter. Danica Patrick had won the Fan Vote last year and was expected to repeat after not driving her way in. However, Jose Wise's Doge Coins and the Reddit community changed the tide and placed Wise in the All Star Race.
A lot of people were pretty ticked off at the results, but there were many like me who felt it was great. I'm a Josh Wise fan and felt the power of the internet was a great thing to see. Suck it up, Danica lovers. I should make you aware, dear reader that I'm not a Danica hater. Just tired of the jaded people in life, I suppose.
The Two drivers whom moved on were: winner: Clint Bowyer and 2nd place AJ Allmendinger with Josh Wise being the winner of the fan vote. This brings us to Saturday Night.
Mr. Big Mac wins another crown jewel
Carl Edwards has a ton of speculation surrounding him right now. His contract negations have endless rumors that he'll be leaving Roush for either Penske or Gibbs. At the beginning of the year, I predicted he will leave Roush for a third car at Penske. I still believe this, however nothing is official just yet. What was official was that Carl Edwards won the most exciting qualifying session of the year. Carl would even lead a total of 18 laps with the thunder being stolen by an old teammate.
Jamie McMurray has to be known as Mr. Big Mac with some of his wins. Jamie now has victories in three of the biggest races of the year. In 2010 he won the Daytona 500 and the Brickyard 400 and set a prescient that made winning more important that we now see the fruits of.
Jamie and his #1 Bass Pro Chevy would lead a race high 31 laps on his way to victory and $1,000,000!
The next race is the Coca-Cola 600 as for the second straight week the Cup drivers are at Charlotte Motor Speedway. The race will air on FOX at 6:00 PM, Sunday May 25th. The defending race winner is Kevin Harvick.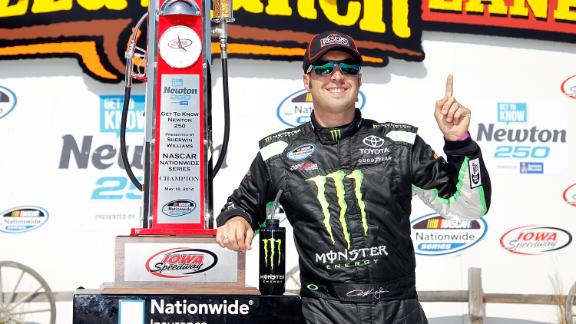 Hornish wins Iowa
Ryan Blaney was making a rare appearance in the rare stand alone race for the Nationwide Series in Iowa. The Get to know Newton 250 presented by Sherwin-Williams was held at Iowa Speedway last Sunday. Ryan would take the pole and lead 80 of the 250 lap event.
However, it'd be a former Penske driver in a new ride that would step up to dominate. Sam Hornish Jr. in a part time ride for Joe Gibbs Racing drove the 54 Monster Camry around Iowa as if it was on a rail. Leading 167 laps and being able to pass any car in any place on the track made him unstoppable. Somewhat symbolic that he beat his former team for his first win of the season.
The Top 5 were: 1st Sam Hornish Jr., 2nd Ryan Blaney, 3rd Regan Smith, 4th Chase Elliot, and 5th Elliot Sadler.
Chase Elliot still leads the points but a battle for second as left Regan Smith and Elliot Sadler tied at 2 points behind the rookie.
The next race is the History 300 from Charlotte Motor Speedway on Saturday at 2:45 PM. The race will air on ABC with a defending race winner of Kyle Busch.
Busch goes Vettel on lower series for second straight week
Kyle Busch put his KBM Toyota on the pole position for the North Carolina Education Lottery 200. He would then lead 130 of 134 lap event. Other than Matt Crafton once again being the rare survivor in points and the spotters giving horrible pointers. That was about it.
The Top 5 were: 1st Kyle Busch, 2nd Matt Crafton, 3rd Brad Keselowski, 4th John Wes Townley, and 5th Timothy Peters.
Points remained in the control of Matt Crafton as he leads Timothy Peters by 11 points.
The Camping World Truck Series is off next weekend.
Verizon IndyCar
The 98th Annual Indianapolis 500 will come to us live at 12:00 PM on Sunday, May 25th. The race will air on ABC with the defending race winner Tony Kanaan.
Random Sports/Non Sports thought:
Tomorrow afternoon NASCAR will announce the 2015 Hall of Fame induction class. The candidates up for nomination are as follows:
Buddy Baker, won 19 times in NASCAR's premier (now Sprint Cup) series, including the Daytona 500 and Southern 500

Red Byron, first NASCAR premier series champion, in 1949
Richard Childress, 11-time car owner champion in NASCAR's three national series

Jerry Cook, six-time NASCAR Modified champion

Bill Elliott, 1988 premier series champion, two-time Daytona 500 winner and 16-time Most Popular Driver

Ray Fox, legendary engine builder and car owner

Rick Hendrick, 14-time car owner champion in NASCAR's three national series

Bobby Isaac, 1970 NASCAR premier series champion

Terry Labonte, Two-time NASCAR premier series champion

Fred Lorenzen, 26 wins including the Daytona 500 and the Coca-Cola 600

Raymond Parks, NASCAR's first champion car owner

Benny Parsons, 1973 NASCAR premier series champion
Larry Phillips, only five-time NASCAR Whelen All-American Series champion
Wendell Scott, first African-American NASCAR premier series race winner
O. Bruton Smith, builder of Charlotte Motor Speedway and architect of Speedway Motorsports Inc.
Mike Stefanik, winner of record-tying nine NASCAR championships
Curtis Turner, early personality, called the "Babe Ruth of stock car racing"
Joe Weatherly, two-time NASCAR premier series champion
Rex White, 1960 NASCAR premier series champion
Robert Yates, NASCAR premier series champion as engine builder and car owner
My five nominees for 2015 would be Buddy Baker, Red Byron, Raymond Parks, Benny Parsons, and Wendell Scott.
Have a question, suggestion or witty comment? Feel free to leave one below! Don't want to do that? Then the fastest, easiest, and quickest way to interact with me is on Twitter, @tpierc07. I also am on Facebook, but that one you have to work for. Don't do social media? Then feel free to e-mail me at tpierc07@yahoo.com!
Tyler Pierce