Recaps from Abu Dhabi and Texas along with the latest news and notes in Racing!
Johnson reclaims point lead and wins Texas


Carl Edwards' chances of making this a three man race were slim to none. He'd need Jimmie Johnson and Matt Kenseth to stumble, all while having a max points race. He'd start that by winning the pole for the AAA Texas 500 in Texas Motor Speedway.
However, a blown engine would regulate him to a 37th finish. He'd also have no luck with Johnson or Kenseth slipping. Matt would stay solidly in the top 10 the entire race. Johnson? He would dominate and lead 255 of 334, and win the event. Johnson would break the tie with Kenseth for the points lead as we head into the final two races of the season.
The Top 5 were: 1st Jimmie Johnson, 2nd Dale Earnhardt Jr., 3rd Joey Logano, 4th Matt Kenseth, and 5th Kasey Kahne.
Chase for the Sprint Cup Points (* means mathematically eliminated)
1. Jimmie Johnson leads by 2342 points.
2. Matt Kenseth (-7)
3. Kevin Harvick (-40)
4. Kyle Busch (-52)
5. Dale Earnhardt Jr. (-62)
6. Clint Bowyer (-69)
7. Jeff Gordon (-69)
8. Greg Biffle (-73)
9. Joey Logano (-91)
10. Kurt Busch (-96)
11. Carl Edwards* (-116)
12. Ryan Newman* (-118)
13. Kasey Kahne* (-133)
Chase Race 9 will come to us from Phoenix International Raceway for the Advocare 500. The race will air at 3:00 PM on ESPN on Sunday November 10th. The defending race winner is Kevin Harvick.
Brad K and 22 make a bid for Owner's Title
Alex Bowman won the pole for the O'Reilly Auto Parts Challenge in Texas Motor Speedway. In what is a young career, Alex has shown glimpses of great potential. However, starting up front would not end how he wanted as he'd fall to the cup stars and be forced to a 17th place finish.
Brad Keselowski and Denny Hamlin would step up to the plate for their respective teams. Denny would lead for 45 laps however; Brad would dominate the race leading 106 of 200 laps. The Penske Ford 22 is currently locked in an owner's points battle with the 54 of Joe Gibbs Racing. It was a tight battle until Kyle Busch had a right tire issue that ended the 54's day early. The 22 currently leads the 54 by 26 points.
The Top 5 were: 1st Brad Keselowski, 2nd Denny Hamlin, 3rd Sam Hornish Jr., 4th Matt Kenseth, and 5th Austin Dillon. Austin Dillon is leading Sam Hornish Jr by 6 points heading into the final two races.
The next race comes to us from Phoenix International Race way in the Great Clips 200. The race will be held on Saturday, November 9th at 4:00 PM on ESPN2. The previous race winner is Joey Logano.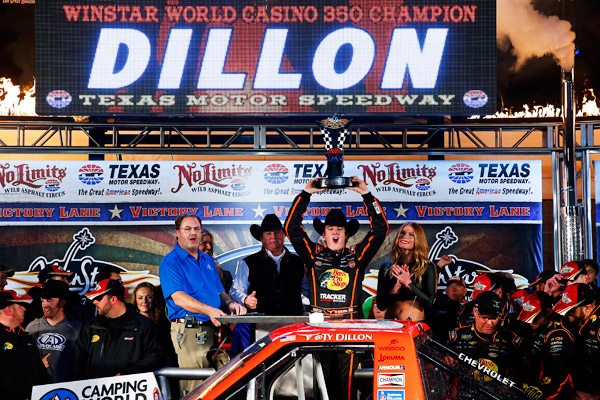 Dillon dominates Texas
Jeb Burton may have won the pole for the WinStar World Casino 350, but it didn't mean anything to Ty Dillon. Getting out to the lead by the time they hit the back stretch, Ty would step up to lead 130 of the 147 lap event! As if his truck was on a rail, Ty would put all but nineteen trucks a lap down before the end of the event. Pole sitter Jeb Burton would finish 26th after running out of gas.
The other side of the story was the battle for the owner's championship between the 88 and 51. Kyle Busch stepped into the truck in hopes he could drive his 51 up and take the lead from Matt Crafton and ThorSport Racing. However, Kyle's efforts would prove fruitless as he would blow an engine.
Matt Crafton can lock up the Championship at Phoenix next week if he leaves with a 49 point advantage over second place.
The Top 5 were: 1st Ty Dillon, 2nd Johnny Sauter, 3rd Ron Hornaday Jr., 4th Brendan Gaughan, and 5th Justin Lofton. Matt Crafton currently holds a 46 point lead over 2nd place James Buescher.

The next race will come to us from Phoenix International Raceway for the Lucas Oil 150. The race will air at 8:00 PM on Fox Sports 1 on Friday, November 8th. The previous race winner is Brian Scott.
Vettel rubs in clinching title by winning 7th straight race
Mark Webber laid down a pole winning lap in the Etihad Airways Abu Dhabi on the Yas Marina Circuit of Yas Island Abu Dhabi. It wouldn't matter as his championship winning teammate would totally and utterly dominate the entire race. I'm not saying this in my normal, Vettel dominated way. He finished ahead of second place Mark Webber by 30.8 seconds. Let that sink in.
I don't have much of a good opinion on Vettel or Red Bull. I suppose my problem comes with a lack of understanding them, or just not relating to them. Either way, I'll admit this statement: Sebastian Vettel is the most dominate driver in his series today.

The Top 5 were: 1st Sebastian Vettel, 2nd Mark Webber, 3rd Nico Roseberg, 4th Romain Grosjean, and 5th Fernando Alonso.

The F-1 series will be off next week.
The NHRA Mellow Yellow Drag Racing had the weekend off. They will come to us next week for the final race of the season from at Auto Club Raceway. The defending race winners in their division are as follows Top Fuel: Brandon Bernstein, Funny Car: Cruz Pedregon, Pro Stock: Allen Johnson, Pro Stock Motorcycle: Andrew Hines. The Automobile Club of Southern California NHRA Finals will air on Sunday, November 10th at 7:00 PM on ESPN2.
In random news:
The NRA may not return to Texas Motor Speedway to sponsor the race there in the spring. This probably has a lot to do with the huge controversy in the spring. The NRA sponsored the race after being under pressure due to the school shootings and various other issues going on in our society.
The Internal Revenue Service is going after Juan Pablo Montoya. They claim he owes $2.7 mill for unpaid taxes and penalties. Of all the agencies I don't want on my back, the IRS is at the top. Pay your taxes kids.
Ryan Newman will run a special paint scheme to honor the veterans at Phoenix. Very cool deal.
Lotus and Kimi Raikkonen reached an agreement so he'd race the final two races of the season. A partial payment is said to be on its way is what is claimed.
Random Sports/Non Sports Thought:
It's been a long day already, beer me.
Have a question, suggestion or witty comment? Feel free to leave one below! Don't want to do that? Then the fastest, easiest, and quickest way to interact with me is on Twitter, @tpierc07. I also am on Facebook, but that one you have to work for. Don't do social media? Then feel free to e-mail me at tpierc07@yahoo.com!
Make sure to come back on Friday for my unsolicited opinion on the news for the week in the racing world!
Tyler Pierce