No Kyle? No problem! 51 still wins
The American Ethanol 200 Presented by Enogen from Iowa Speedway offered us a rare chance at seeing the trucks without Cup star Kyle Busch. Though just because Kyle was in New Hampshire didn't mean anything would be different Iowa.
Darrell Wallace Jr. would take the first starting spot and lead 41 laps. Meanwhile, KBM teammate Erik Jones in the 51 that Kyle has been piloting would lead 131 of the 200 lap event. Jones would drive his Toyota Tundra straight into victory lane, keeping Toyota's winning streak alive of winning every race this year. Darrell Wallace Jr. would finish 13th.
The Top 5 were: 1st Erik Jones, 2nd Ryan Blaney, 3rd Matt Crafton, 4th Joey Coulter, and 5th German Quiroga Jr.
Matt Crafton has the points lead by just 2 points over Ryan Blaney and only 7 points over his ThorSport teammate Johnny Sauter.
The series is off next weekend.
Kes takes New Hampshire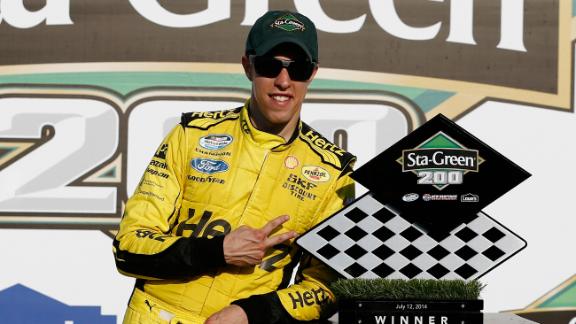 The Sta-Green 200 from New Hampshire Motor Speedway would be simply dominated by Brad Keselowski. He would start from the pole and then lead four times for 152 laps. The only car that could even think about touching him was Kyle Busch (of course) in the 54 who led for 34 laps. Brad would easily roll right into Victory lane after costing himself at Kentucky which was his last run in a Nationwide series.
The other major story was the Nationwide Series Dash 4 Cash. It was great that Ryan Sieg and Jeremy Clements got a ton of television time out of it that they deserved. It was also good to see Ryan Reed, the Roush Fenway Driver get his race car and story on television. However, this lineup was obvious who would win when we found out Regan Smith was also involved. Reed would keep it interesting though as he'd only finish one position behind Regan in 11th to Regan's 10th.
The new lineup for the Dash 4 Cash in Chicago is Regan Smith advancing from Round 1, Chris Buescher who finished 5th, Elliot Sadler who came home in 6th and Brian Scott in 7th.
The Top 5 for the Sta-Green 200 were: 1st Brad Keselowski, 2nd Kyle Busch, 3rd Matt Kenseth, 4th Kyle Larson and 5th Chris Buescher.
Regan Smith keeps his point lead and is now up by 8 points over Elliot Salder and 13 points over his JRM teammate Chase Elliot.
The next race is the EnjoyIllinois.com 300 from Chicagoland Speedway in Joliet IL. The race will air on Saturday July 19th, at 8:30 PM on ESPN 2. The previous race winner is Joey Logano.
Fresh tires benefit Hunter-Reay while costing Kanaan.
There's an old saying in racing that sometimes the best car doesn't always win. It can be because of fuel mileage. It can be because of dumb luck and sometimes it can be because you have four fresh Firestones and are hauling the freaking mail!
Ganassi Racing is going through a usual run as of late and are trying to find victory lane The Iowa Corn Indy 300 from Iowa Speedway looked possible to change that after Scott Dixon started pole for the event with teammate Tony Kanaan beside him.
Dixon would lead 17 laps while Kanaan would lead 247 for the 300 lap event giving the total of 264 to the duo and looked to be a sure victory for Kanaan. However, a last minute call down pit road during caution changed all that. Juan Pablo Montoya and Ed Carpenter came together and brought out the race's final caution.
Ryan Hunter-Reay, Josef Newgarden and a host of others came down pit road and put on four fresh tires. That would follow by Hunter-Reay and Newgarden absolutely tearing through the field with ten laps left. Kanaan would try and hold on but the four fresh tires would prove to much as Ryan Hunter-Reay rocketed past to lead the final two laps and win the event.
The Top 5 were: 1st Ryan Hunter-Reay, 2nd Josef Newgarden, 3rd Tony Kanaan, 4th Scott Dixon, and 5th Ed Carpenter.
Helio Castroneves now leads teammate Will Power by 9 points and Ryan Hunter-Reay by 32.
The next race weekend is the double header coming to us from Toronto. The Honda Indy 2 in T.O will come to us live from Toronto, Ontario Canada. Race 1 will occur on Saturday, July 19th at 3:00 PM and air on NBC Sports Network. The defending race winner is Scott Dixon. Race 2 will occur on Sunday, July 20th at 3:00 PM and air on NBC Sports Network where Scott Dixon is also the defending race winner.
Kes completes the sweep of New Hampshire
The Camping World RV Sales 301 from New Hampshire had a familiar faces dominating the event. Kyle Busch would win the pole for the event and lead 62 laps of the 301 lap event. However, it'd be Brad Keselowski who started 7th who'd just dominate the event.
Brad would lead for 138 laps of the event and just be completely unstoppable. He would start back in the pack on restarts? Wouldn't matter, he'd just drive through the field. Late race cautions? Didn't matter, he just hooked up and drove away. Brad's dominance was the story of the weekend.
There'd also be two other major stories in the event. The first is the fuel mileage which happens often when we got to New Hampshire. Many drivers had the race gone green would have just barely made it. However, thanks to a caution from the 51 car of Justin Allgaier being involved in an accident that extended the race into a Green-White-Checkered that extended the race past 301 to 305. It'd directly affect Jeff Gordon and Kevin Harvick as both cars ran out of fuel.
What was the other major story? Morgan Sheperd. No, I'm not lying to you, it really was Sheperd. Multiple laps down, Sheperd got loose and slid up into second place running driver, Joey Logano. The wreck killed Logano's car, but Sheperd continued on to go even more laps down. There has been debate for the last few years if Morgan at 72 should be allowed to continue to compete.
Morgan passes his physical every year and his car passes inspection so NASCAR is fine with letting him drive. Something that people don't even know is that you don't need an actual driver's license to drive in NASCAR, just pass physicals and inspection.
What is my opinion on Sheperd still driving in NASCAR at 72?
My grandmother is 71 and I wouldn't trust her to drive a Tonka toy truck, but she's still on the road. Who am I to judge? NASCAR will make the call when it's time for Sheperd to no longer compete in their series and I trust them…I'd just avoid Sheperd at all costs when he's in a car….just like my grandmother.
The Top 5 were: 1st Brad Keselowski, 2nd Kyle Busch, 3rd Kyle Larson, 4th Matt Kenseth and 5th Ryan Newman.
Drivers now guaranteed a spot in the 2014 Chase:
Brad Keselowski with 3 wins and Dale Earnhardt Jr. with 2 wins.
Winners all but guaranteed a spot in the 2014 Chase are as follows:
Jimmie Johnson with three wins.
Kevin Harvick, Joey Logano and Carl Edwards are now tied at two wins per driver.
Kyle Busch, Kurt Busch, Denny Hamlin, Jeff Gordon, and Aric Almirola all have one win a piece.
There are now seven races left for drivers to get their first win of the season to get in or get as high in the points as possible to fill the remaining fourteen official spots and the five unofficial.
The Sprint Cup series is off next weekend.
Random Sports/Non Sports thought:
I took a shot at my grandmother….yup. I'm not concerned about it though, because she doesn't even understand texting let alone finding my article online.
Have a question, suggestion or witty comment? Feel free to leave one below! Don't want to do that? Then the fastest, easiest, and quickest way to interact with me is on Twitter, @tpierc07. I also am on Facebook, but that one you have to work for. Don't do social media? Then feel free to e-mail me at tpierc07@yahoo.com!
Tyler Pierce